Are you a golf, tennis, football, rugby, basketball or motor racing enthusiast or player/participant, and you want to live out your passion by taking part in a tournament or attending an international event without worrying about the logistical organisation?
We take care of your trip from A to Z, whatever the desired mode of transport: commercial flight, jet, train. We provide on-site transfers and all of your travel arrangements from your accommodation to the event venue. We select the closest accommodation that best suits your style (palace, boutique hotel, villa, luxury apartment), and also ensure the best seats thanks to partnerships with organisers and sports federations.
Don't worry about a thing. We are here to let you pursue your passion to the full! Trust us: we have the experience! We have already handled several trips of this type: the Augusta Masters and the Football World Cup.
Our luxury concierge service provides a chef at home, a butler who will supervise the organization, nannies for your children.
Seriousness, discretion and professionalism are the essential points of our selection criteria. Our objective is to provide you with a tailor-made service
Our multilingual drivers, chosen through a rigorous interview process, know how to drive and guide our customers according to their wishes. They have a broad culture, and knowledge of great restaurants, palaces, and cultural sites. They can offer advice to help you make the most of your stay. Combining discretion and a presentable appearance, our experienced drivers will ensure the safety and well-being of our clients.
Whether you would like to visit a monument or an exhibition, or to discover a region, we select the best profiles of guides and lecturers, specialising in your language, who will accompany you throughout your visits. Whether you wish to stroll in the city or take a bike ride, you can trust our specialised guides to help you experience new sensations.
In search of the latest trendy bag, our personal shoppers will do their utmost to find you that rare pearl. If you want an unusual or last minute gift, we will put our whole team in search of something exceptional for you, While preparing for an evening or a wedding, you will avoid having to visit the shops, as it is the role of our personal shopper to find you the most beautiful outfits and accessories for D-Day.
Just like our luxury concierge service, the role of the personal planner is to build with you from A to Z your project of travel, trip, personal or professional event and to adapt to your desires, your wildest dreams and your budget. Thanks to his expertise and his listening skills, he will guide you step by step in the construction of your project.
Assisting you throughout your stay, or event. Responding to your requests, selecting the best service providers, and letting you discover unusual places, thanks to our dedicated team and our tailor made service.
Charles D.
POSITION – FUNCTION
"For a city break, we select the best establishments from our network of partner hotels, corresponding to your wishes (palaces, boutique hotels) and we check the availability of rooms before your arrival. For the rental of prestigious apartments via our partners we make sure… "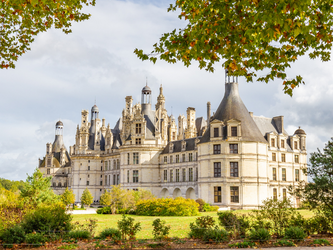 Go on day trip from Paris. Discover the exceptional Chambord castle and the Loire Valley.
On the program: The Loire Valley and its vineyards, a gastronomic lunch, the very famous Chambord castle listed as a UNESCO World Heritage Site for over 40 years!
read more